C
Voici  
HARPOON
le premier des 10 Maraudeurs  prevus par Magic Troy
Voici les renseignements que j'avais donné à Troy en lui laissant carte blanche pour l'actualisation du projet ( voilà pourquoi c est en anglais , je traduirais plus tard
HARPOON
HEIGHT 5'7
WEIGHT 175 lbs
HAIR  Red
EYES Brown
He is a 
strong looking but small inuit man
.He has red 
straight cut hair 
and very dark eyebrows.He wears a
 full body protective costume that only leaves his left arm and head bare ( typical Marauder costume style  )
.The costume is purple in color.He also wears a 
metal belt and a metal wristband on the free left arm 
with a slay spear  or harpoon in his hand.
 (pic1,2,3,4)
He wears a 
pack of metal slay spears and harpoons on his back in a quiver 
which extends as a 
band around his chest ( pic 1,2,3,4,5,6)
As a cold-blooded killer he is very often seen around with 
a nasty smile 
on his face and really enjoys the killing and pain of others in a sadistic way.
Harpoon is basically a sniper and uses 
blinding tactics 
whenever possible to kill the victim in one attack. 
He 
can release various forms of bioenergy 
to charge
 solid longitudinal objects 
with a touch so that they explode or desintegrate matter on contact (
pic 7,8,9,10) 
and can stun,paralyze or kill living being they stricke.The amount of energy varies with the size of the object and he must throw the object in order to transform into energy.
The reason he used harpoons is because they are large enough to cause significant damage but light enough to carry confortably and easily throw in his quiver.He is exceptionnally skilled in using his spears as weapons in melee combat and as thrown projectiles. 
Major points
In launching position throwing a bright slay spear with sparks ( spare part interchangeable).(pic 7,8,9,10)
Harpoons or spears in clear resin to embed themselves in his arm , the bottom remaining unpainted to make they seem already thrown flying into the  air .(pic 7,9,10)
Large quiver in his back with some harpoons and spears set Inside.( pic 2,3,4,5,6)
Sketch Troy
WIP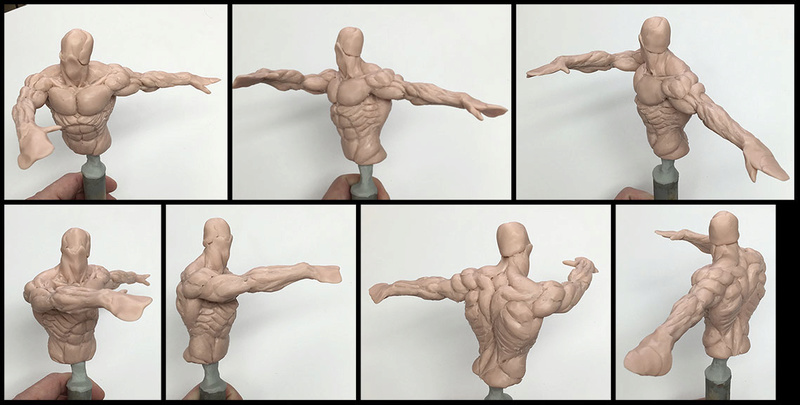 BUSTE FINI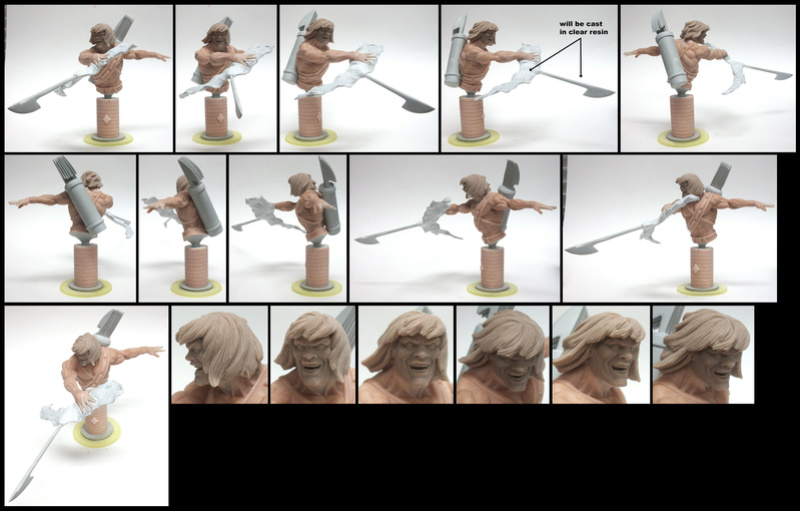 Des modifications que j'ai demandé à TROY : HARPOON etait un peu trop prognathe meme pour un Inuit et je lui ai donc demandé de diminuer un peu la mâchoire inférieure et d'autre part de mettre des flammèches sur le Harpon pour montrer la charge énergétique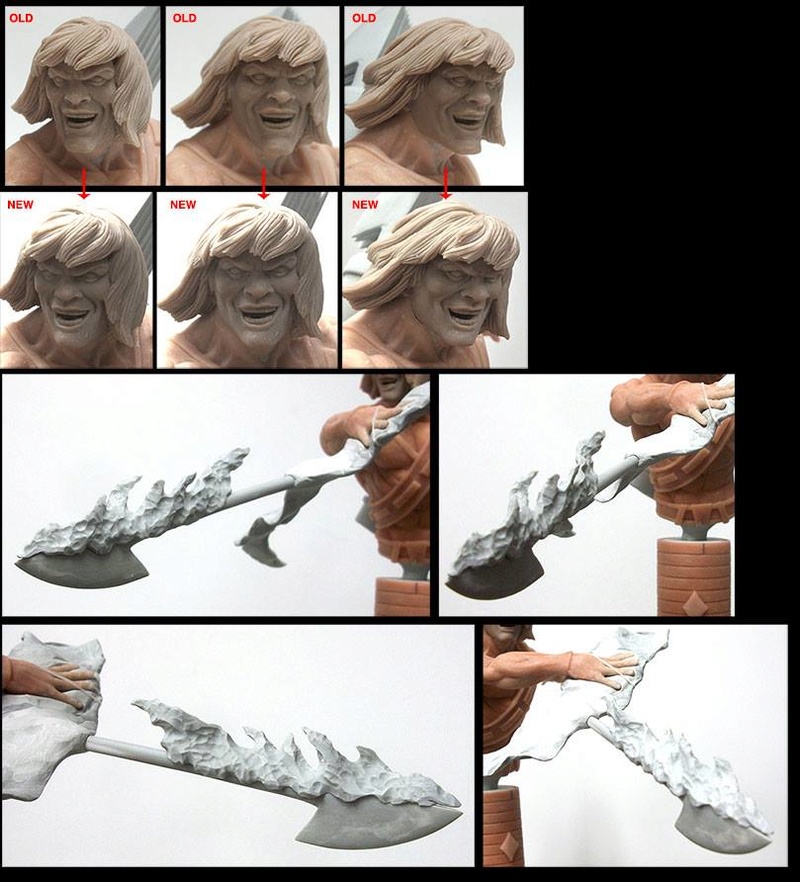 Dernière édition par mimic le Dim 20 Nov 2016, 02:55, édité 15 fois