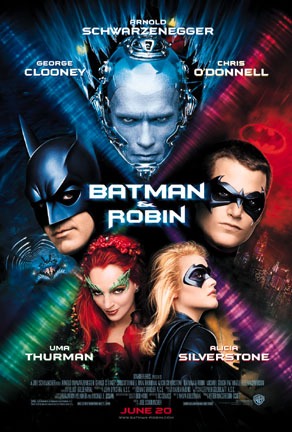 Batman & Robin est un film fantastique américain réalisé par Joel Schumacher, sorti en 1997.
Batman & Robin est aussi un film américain réalisé par Spencer Gordon Benett, sorti en 1949.
Synopsis
A la suite d'un accident dans son laboratoire, Mister Freeze, scientifique de profession, est devenu un être incapable de supporter des températures supérieures à zéro degré. Désireux d'obtenir les fonds nécessaires pour mettre au point un traitement contre le syndrome de MacGrégor, une maladie rare contractée par sa femme, Mister Freeze projette de déclencher une vague de froid sur Gotham City. Par ailleurs, il peut compter sur la complicité de sa nouvelle acolyte Poison Ivy, une créature sensuelle et vénéneuse qui tente d'envahir la ville de plantes carnivores. Cependant, Batman et Robin se dressent contre eux. Ils seront aidés dans leur tache par Batgirl, la nièce d'Alfred...
Fiche technique
Titre : Batman & Robin
Réalisation : Joel Schumacher
Scénario : Akiva Goldsman, d'après les personnages créés par Bob Kane
Production : Peter Macgregor-Scott, William M. Elvin, Mitchell E. Dauterive, Benjamin Melniker et Michael E. Uslan
Société de production : Warner Bros. Pictures
Budget : 125 millions de dollars
Musique : Elliot Goldenthal
Photographie : Stephen Goldblatt
Montage : Dennis Virkler
Décors : Barbara Ling
Pays d'origine : États-Unis
Format : Couleurs - 1,85:1 - DTS / Dolby Digital / SDDS - 35 mm
Genre : Aventure, fantastique
Durée : 125 minutes
Dates de sortie : 12 juin 1997 (première à Los Angeles), 20 juin 1997 (Canada, États-Unis), 2 juillet 1997 (Belgique), 9 juillet 1997 (France)
Distribution
George Clooney (VF : Patrick Noérie et VQ : Daniel Picard) : Bruce Wayne / Batman
Chris O'Donnell (VQ : Gilbert Lachance) : Dick Grayson / Robin
Arnold Schwarzenegger (VF : Daniel Beretta et VQ : Yves Corbeil) : Dr Victor Fries / Mister Freeze
Uma Thurman (VQ : Élise Bertrand) : Dr Pamela Isley / Poison Ivy
Alicia Silverstone (VQ : Aline Pinsonneault) : Barbara Wilson / Batgirl
Michael Gough (VF : Jacques Ciron et VQ : Michel Maillot) : Alfred Pennyworth
Pat Hingle (VQ : Yves Massicotte) : Le commissaire James Gordon
John Glover : Dr Jason Woodrow
Elle Macpherson (VQ : Anne Dorval) : Julie Madison
Vivica A. Fox (VQ : Hélène Mondoux) : Mlle B. Haven
Vendela Kirsebom : Nora Fries
Elizabeth Sanders : Gossip Gerty
Jeep Swenson : Bane
John Fink : Vigil du musée Aztec
Michael Reid MacKay : Antonio Diego
Récompenses
Nomination au prix du meilleur film fantastique, meilleurs costumes (Ingrid Ferrin et Robert Turturice) et meilleurs maquillages (Ve Neill et Jeff Dawn), lors de l'Académie des films de science-fiction, fantastique et horreur 1998.
Prix du plus mauvais second rôle féminin (Alicia Silverstone) ainsi que nominations aux prix du plus mauvais film, plus mauvais réalisateur, plus mauvaise suite de film, plus mauvais scénario, couple le plus ridicule à l'écran (George Clooney et Chris O'Donnell), plus mauvais seconds rôles masculins (Chris O'Donnell et Arnold Schwarzenegger), plus mauvais second rôle féminin (Uma Thurman) et chanson la plus nulle (Billy Corgan, pour The End is The Beginning is The End), lors des Razzie Awards 1998.