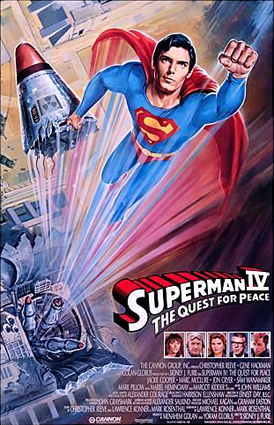 Superman IV : le face à face (Superman IV : The Quest For Peace) est un film américain réalisé par Sidney J. Furie, sorti en 1987. C'est le quatrième volet des adaptations cinématographiques de Superman avec Christopher Reeve dans le rôle-titre.
Synopsis
Superman revient sur Terre et reprend sa place au sein du journal sous le pseudonyme de Clark Kent. Mais Lex Luthor, toujours décidé à anéantir l'Homme d'Acier, décide de créer son propre super-héros et décide de voler quelques cheveux de Superman présentés dans un musée. Il crée alors Nuclear Man (l'Homme Nucléaire), un homme fait d'une matière que Superman ne peut combattre. Nuclear Man permettra ainsi à Lex Luthor de réaliser en toute liberté ses plans les plus criminels.
Fiche technique
Titre original : Superman IV : The Quest for peace
Réalisation: Sidney J. Furie
Scénario : Christopher Reeve, Lawrence Konner et Mark Rosenthal
Musique : Alexander Courage
Thème musical : John Williams
Pays d'origine : États-Unis
Format : Couleur
Genre : Science-fiction, super-héros
Durée : 130 minutes
Dates de sortie : États-Unis : 24 juillet 1987 / France : 28 octobre 1987
Distribution
Christopher Reeve : Superman/Clark Kent
Gene Hackman : Lex Luthor/Nuclear Man (voix)
Jackie Cooper : Perry White
Marc McClure : Jimmy Olsen
Jon Cryer : Lenny
Sam Wanamaker: David Warfield
Mark Pillow: Nuclear Man
Mariel Hemingway : Lacy Warfield
Margot Kidder : Lois Lane
Autour du film
C'est Wes Craven qui devait initialement diriger le film.
Richard Donner, qui avait été ecarté de Superman II, s'est vu proposer la direction mais a décliné l'offre.
Richard Lester, le réalisateur de Superman II et de Superman III aurait également refusé une proposition identique. On ne sait, en revanche, pas lequel des deux a été sollicité en premier lieu.
Le budget originel de 37M$ a été ramené à 17M$. Avec ce budget réduit, les effets spéciaux perdirent beaucoup de qualité, ce qui en fit une des raisons majeures de l'échec du film.
44 minutes du film ont été coupées au montage final. Ces scènes manquantes révélaient notamment la première tentative de créer Nuclear Man. Il est d'abord de teint blanchâtre, aux cheveux noirs et se comportant de manière naïve, ce qui le fait ressembler à Bizarro. Ce premier Nuclear Man rencontre Lacy Warfield en boîte de nuit, tombe amoureux d'elle mais se confrontant à Superman, est détruit. Lex Luthor réutilise ses restes pour créer un second Nuclear Man, celui qui est dans le montage final du film (et qui est toujours amoureux de Lacy, la reconnaissant dans un journal).
Nuclear Man détruit un mur de la Grande Muraille de Chine et Superman le reconstruit en se servant de son regard-laser qui fait réapparaitre les briques ! Originellement dans le script, Superman devait reconstruire le mur manuellement avec vitesse, mais le budget n'a pas permis de réaliser cette prouesse à l'écran.
Les producteurs ont longtemps pensé pouvoir utiliser les quarante-quatre minutes de film coupées comme matériau de départ d'un probable Superman V. Celui-ci devait s'intituler "The New Superman" et aurait pu être écrit et dirigé par Christopher Reeve, celui-ci abandonnant cependant l'interprétation du personnage qui l'avait popularisé. Mais l'échec financier du quatrième épisode fut fatal à toutes ces intentions.