IMAGES HD


http://www.marvelscustoms.com/freak/albums/WETA/bow_arrow_tauriel_1_HD.jpg
http://www.marvelscustoms.com/freak/albums/WETA/bow_arrow_tauriel_2_HD.jpg
http://www.marvelscustoms.com/freak/albums/WETA/bow_arrow_tauriel_3_HD.jpg


Image du SDCC 2013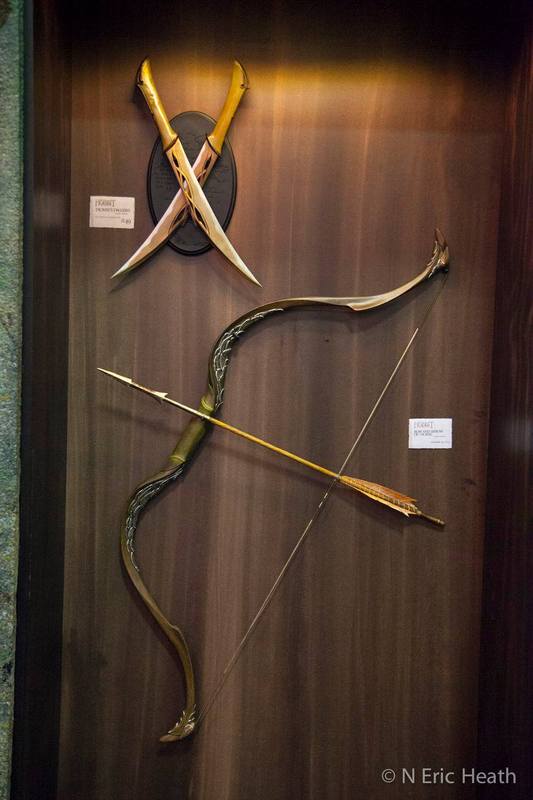 Informations :
Type : Prop Replica

Date de sortie :
Pre-order Now! A strictly limited number of pieces will be available in each of our warehouses in November. First Come, First Served. More stock will be available in December.

Tirage : 1000 exemplaires

Taille :
43.3" x 30.3" x 2" (H x W x D)
110 cm x 77 cm x 5 cm

Poids : 1,5 kg

Matériau : Uréthane

Prix : 299$


Among the peoples of Middle-earth none were more gifted with arrow and bow than the Elves.
Possessed of eyesight as keen as a hunting falcon, the Sindar Elves of King Thranduil's Realm wielded their bows against the bloated spiders that had scuttled north with the creeping infection of the Necromancer.
Leading the Elven hunting parties was Tauriel, favourite of the King and lethal warrior. Even among the Elves, Tauriel's prowess was revered and the whisper twang of her short, elegantly curved wooden bow and unerring flight of her barbed arrows were held in dread by the Realm's enemies.
This prop replica has been created from molds of the original weapon used in the film, using the same high impact urethane material as the props on set and finished using the same techniques and materials.
The Bow and the arrow of Tauriel were created for the film by the artists at Weta Workshop. This prop replica is made of urethane and is a display piece. It may break if drawn or used as a weapon.
It comes with a reinforced polystone wall plaque for display, pride of place, on your wall.
Tauriel's bow is the second in Weta's range of high end authentic prop replicas from The Hobbit: The Desolation of Smaug. All created by the artists in the filmmaking community of Wellington, New Zealand.
xxxxxxxxxxxxxxxxxxxxxxxxxxxxxxxxxxxxxxxxxxxxxxxxxxxxxxxxxxxxxxxxxxxxxxxxxxxxxxxxxxxxxxxxxxxxxxxxxxx
  Parmi les peuples de Terre du milieu aucun n'était plus doué avec les flèches et l'arc que les Elfes.
La vue perçante comme un faucon de chasse, les Elfes Sindar du Royaume du Roi Thranduil ont utilisé leurs arcs contre les araignées géantes qui avaient envahi le nord avec l'infection rampante du Nécromancien.
 Menant les parties de chasse des Elfes , Tauriel est la favorite du Roi et un guerrier mortel. Même parmi les Elfes, ses prouesse sont révérées et sa réputation et le vol infaillible de ses flèches acérées ont tenus dans l'effroi  les ennemis du Royaume.
  L'Arc et les flèches de Tauriel ont été créés pour le film par les artistes de l'Atelier Weta. Cette réplique est faite d'uréthane et est une pièce d'exposition. Il peut se casser s'il est utilisé comme une arme.
  Il est livré avec une plaque murale en polystone pour la présentation , réservez lui une place de choix sur votre mur.
  L'arc de Tauriel est le deuxième dans la gamme de Weta de répliques d'armes authentiques haut de gamme du Hobbit : la Désolation de Smaug. Tout créé par les artistes dans la communauté de Wellington
Dernière édition par frankythegoon le Mer 23 Oct 2013, 18:55, édité 3 fois