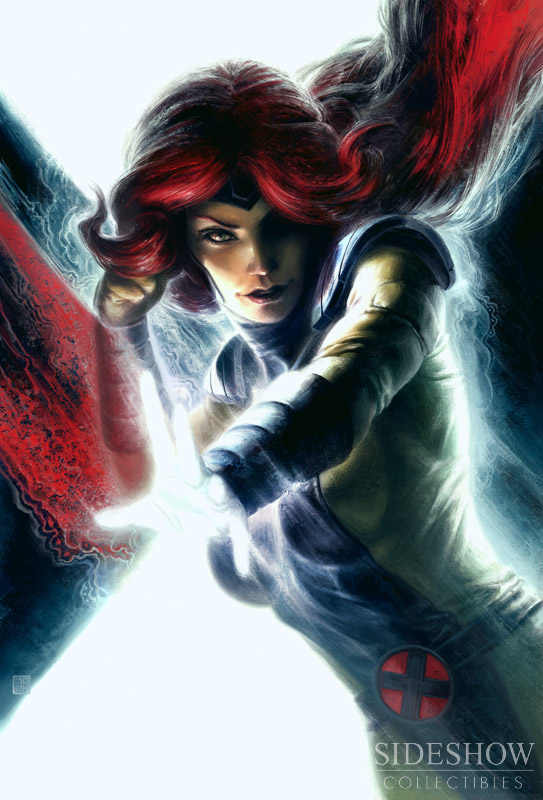 L'illustrateur Fabian "Monk" Schlaga nous fait suivre l'évolution de son travail sur son illustration de la magnifique mutante Jean Grey :
"J'ai une approche plus graphique sur mon travail depuis longtemps et dans ce cas une composition en X me semblait être un choix judicieux. Ce n'est pas vraiment subtil, mais étant donné la nature du sujet, je sentais que cela viendrait vraiment bien en complément de la dernière sculpture de Sideshow.
Pour le choix de couleurs, j'en ai volontairement limité le nombre, laissant la lumière dominer les couleurs sur la plus grande partie de l'image. Sur mes premières versions, j'ai testé des palettes plus vives et contrastées, où l'image était partiellement teintée en rouge, comme si l'observateur subissait lui-même l'attaque de Jean. C'était une tentative de souligner une cassure visuelle mais finalement nous avons estimé que cela attirait trop l'attention hors de son visage.
Globalement, je voulais trouver un équilibre entre l'énergie et la beauté. Jean m'a toujours marqué comme une sorte de personnage majestueux, mais pas déséquilibré (normalement !). Il y a des chances qu'elle soit plus puissante que vous et elle le sait : c'est l'impression que j'ai voulu créer".
--
Illustrator Fabian "Monk" Schlaga takes us through the evolution of his concept artwork for the gorgeous Marvel mutant, Jean Grey:
"I've been interested in more graphic approaches to my work for a while now, and in this case an X-themed composition seemed like an obvious choice. It's not exactly subtle, but given the nature of the subject matter I felt like it would really complement the final sculpted piece from Sideshow.
In terms of the color scheme, I intentionally kept it rather limited, letting the light dominate over the colors for the most part. In some of the early versions I explored a more extreme palette, where the image was partially doused in red, as if the viewer were to actually experience being at the receiving end of Jean's attack. It was an attempt to emphasize a visual break, but ultimately we felt it took too much attention away from her face.
In general, I wanted to strike a balance between something energetic and beautiful. Jean always struck me as a kind of sovereign character, but not unhinged (usually!). Chances are she is more powerful than you and she knows it – that's the impression I wanted to create."